Sandhills Merger Information
Click the link below for additional information:
Other Helpful Information: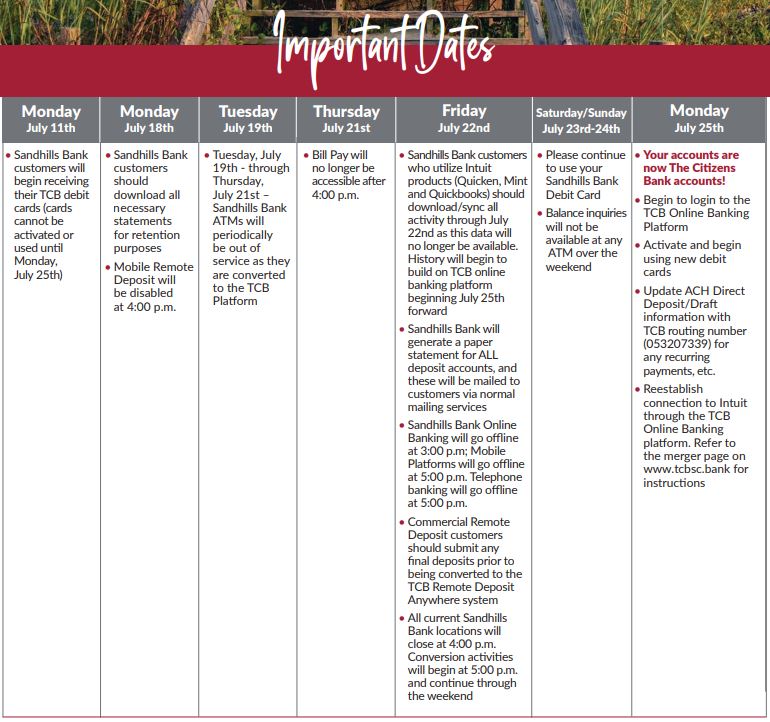 Information on Intuit Conversion

:
Please review the information below to assist in converting your Quickbooks, Quicken or MINT to your new TCB Account. 
1st Action Date: Friday, July 22nd, 2022
A data file backup and a final transaction download should be completed by this date. Please make sure to complete the final download before this date because transaction history might not be available after the upgrade.
2nd Action Date: Monday, July 25th, 2022
This is the action date for the remaining steps on the conversion instructions. You will complete the deactivate/reactivate of your online banking connection to ensure that you get your current QuickBooks accounts set up with the new connection.

Cautionary Statement Regarding Forward-Looking Statements
Statements included herein, which are not historical in nature are intended to be, and hereby are identified as, forward-looking statements within the meaning of the Private Securities Litigation Reform Act of 1995.  Examples of forward-looking statements include, but are not limited to, statements regarding the outlook and expectations with respect to the planned merger, the strategic and financial benefits of the merger, including the expected impact of the transaction on the combined company's scale and deposit franchise, and the timing of the closing of the transaction. Words such as "believe," "expect," "anticipate," "project," "should," and variations of such words and similar expressions are intended to identify such forward-looking statements. Forward-looking statements are subject to risks, uncertainties and assumptions that are difficult to predict with regard to timing, extent, likelihood and degree of occurrence, which could cause actual results to differ materially from anticipated results. Such risks, uncertainties and assumptions, include, among others, the following:
the failure to obtain necessary regulatory approvals when expected or at all (and the risk that such approvals may result in the imposition of conditions that could adversely affect the combined company or the expected benefits of the transaction);

the failure of either company to satisfy any of the other closing conditions to the transaction on a timely basis or at all;

the occurrence of any event, change or other circumstances that could give rise to the right of one or both of the parties to terminate the merger agreement; and

other factors that may affect future results of either party including changes in asset quality and credit risk; the inability to sustain revenue and earnings growth; changes in interest rates and capital markets; inflation; customer borrowing, repayment, investment and deposit practices; changes in general economic conditions, including due to the COVID-19 pandemic; the impact, extent and timing of technological changes; capital management activities; and other actions of the Federal Reserve Board and legislative and regulatory actions and reforms.
Citizens Bancshares Corporation and Sandhills Holding Company, Inc. undertake no obligation to revise or update publicly any forward-looking statements for any reason.